Current Twitch live-coding stream setup
I am still extremely new to streaming my coding sessions but I've been hooked watching streams like:
There are so many more good streams doing live-coding with all types of technology. So I've started working a lot more at trying to get my setup just right so I could live code some personal projects and hopefully help others learn new technologies.
It is really helpful as I'm getting started to see the blog posts and content generated by these streamers with their hardware & software setups so I was motivated to provide something similar in the hopes that someone else can kick off a great stream and advance the community.
Full disclosure: the links below are affiliate links with Amazon. Buying from them helps support my stream.
So without further delay:
Audio/Video Setup
I'm still learning a lot about lighting and audio. There is a lot of experimentation going on in these areas right now so a lot of what's below is subject to change.
Above my monitors I have two Elgato Key Light panels. Both are set to provide more yellow light than blue to offset the blue light coming from my 3 24" monitors.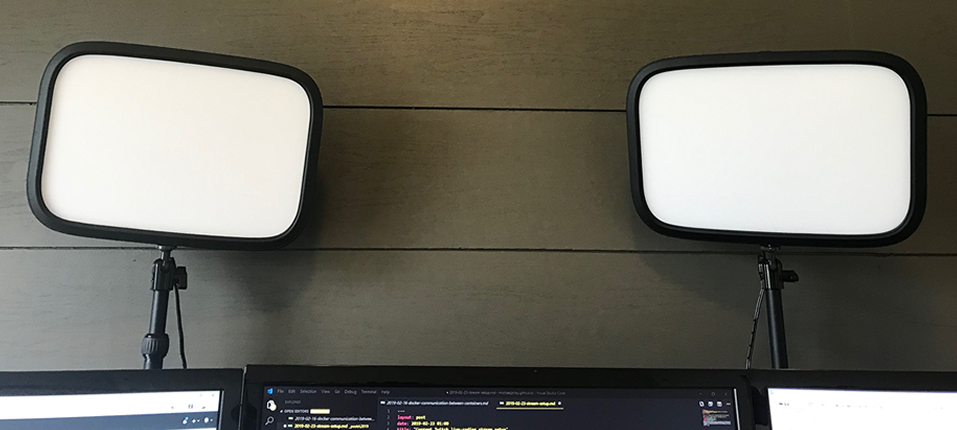 Behind me is a Fovitec StudioPRO 5' x 6.5' blue/green screen held up with a Fovitec clip stand.
My lighting setup is not perfect and I'm still tweaking the levels to improve. I feel like I need another type of light behind me to better illuminate the green screen to improve the chroma-key. I've actually been debating moving one of the key lights to the center front and moving the other behind me to illuminate the green screen.
I've been using the Logitech C922x Webcam for my primary video. It seems to do well and I'm currently using Xsplit Vcam software to handle the background removal. I purchased the webcam based on feedback from other streamers and haven't been disappointed with it.
For the audio I'm using an Audio-Technica AT2020 condenser microphone with a pop filter. That runs into a Focusrite Scarlett Solo USB audio interface and into the PC from there. I've been really happy with the mic. Our company uses MS Teams heavily with its call/video recording and I use this mic exclusively now rather than a headset mic.
Other Hardware
My streams have really been focused on IoT development and I've found it difficult to display what's going on with my Raspberry Pi's video onto the stream. So far I've been limited to only displaying an SSH window to the Pi. So a new addition to the family is the Elgato HD60 Pro game capture card. This receives an HDMI input and shows in OBS as a video source that I can share on the stream. This will get its first use in a few days on the stream.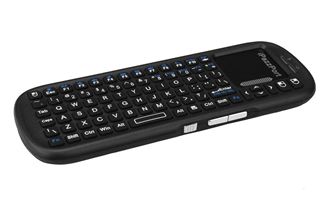 Speaking of working on IoT devices, I've often had the problem of connecting keyboards & mice to them and then having to rewire everything as I switched devices or put it away. Then Scott Hanselman turned me on to the iPazzPort Wireless Mini Handheld Keyboard/Touchpad.
This is a mini-keyboard with a built in touch pad that is a MUST HAVE if you work with devices like the Raspberry Pi at all. It's only $14 so it was a no-brainer purchase.
The final piece of hardware that I'm constantly finding uses for (even when not streaming) is the Elgato Stream Deck. This little device is a wonder and with the new SDK released by Elgato I have a feeling an ecosystem of extensions/add-ons are about to spring up around this guy.
Software
I'm not using a ton of software, but here's the rundown:
OBS for scenes and actual recording/streaming. Also do some audio filtering here, though that is very much still a work in progress.
Elgato Game Capture for Windows to capture the input from the HD60 Pro.
On my stream, you'll see alerts & widgets provided by StreamLabs. They make it easy to add customized alerts to your stream.
---
That's the current run-down. I hope to expound more on my findings as I work to improve the audio/video production of the stream so future streamers can get there faster. In all, I've really enjoyed live-coding on stream. More than anything I've really gotten a lot from the relationships formed and am constantly amazed at the friendliness & helpfulness of all those involved.
Got any suggestions to improve my stream or other hardware/audio/video ideas? Leave me a comment or find me on Twitter @michaeljolley or Twitch baldbeardedbuilder.